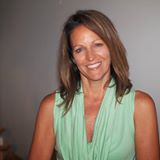 Dayan Moore, painter, designer, environmentalist, and entrepreneur, was born in Pittsburgh, PA.  A born advocate with innate passion, curiosity, and ambition, she was an environmentalist and vegetarian by age 11.  Day enjoyed all outdoor and artistic activity, driving anything with a motor, and dreaming of the life on the open sea.  Through her adventures, at a young age, she also developed a love of fashion and a discerning eye for detail & design, which she nurtured by immersing herself in reading, visiting museums, and learning the works of O'Keefe, Rodin, Avedon, and Rothko.
Day earned a B.F.A. from Rhode Island College.  She has worked for Sotheby's as a paint restoration artist, a sous chef for a gourmet catering company, a consultant on small business projects, and a small business owner as a vegan handbag designer. Day's entrepreneurial work has gained national attention, earning several awards in the sustainable and social enterprise arenas, including the 2009 Eileen Fisher Business Grant Program for Women Entrepreneurs.
Day has been painting in various parts of the US, Caribbean, Central America, & Europe for more than 3 decades.  Her work draws inspiration on sketches, journals, and photographs made during her travels.  Day's current work is based on an ongoing colloquy with the sea, exploring more deeply the nature of continual change by isolating a particular moment in time.
"I am interested in capturing the quiddity of place; the core memory of sights, sounds, and smells thorough an intense construct of color."
Day donates a percentage of every painting sold to Sea Shepherd Conservation
dayanmoore.com